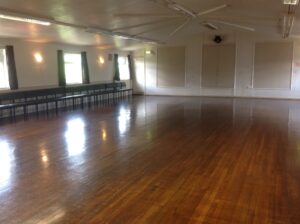 Groups and Classes
Main Hall: £20 per hour
Youth Club area: £14.50 per hour
Meeting room: £14.50 per hour
Session rate (4 hrs): £42 concession, £56 commercial
Day rate (12 hrs): £126 concession, £176 commercial
Saturday: £52
Sunday: £62
Functions
Children's party (ages 1-12 only)
Saturday 13.30 – 16.30: £80
Sunday 13.30–16.30: £90
Adult party/function (under 21 yrs must be accompanied by a responsible adult at all times)
Saturday 18:00 – 23:00: £120 (no bar license), £145 (including bar license)
Weddings
All day + evening reception : £250 (£275 with license)
Evening reception only: £140 (£165 with license)
All bookings require an £80.00 (returnable) breakages deposit on confirmation of the booking.
All bookings required to pay the booking fee prior to picking up the keys or the start of the event.
The low prices reflect the need for hirers to 'self service' their booking, set up and clear away tables, kitchen etc.
Rooms and availability
For more about the rooms available to hire, click here
For a list of available hire times, click here
To find out what groups and classes are currently using the hall, click here
Make a booking enquiry
You can make a preliminary enquiry about room booking using the form below and someone will be in touch to discuss your requirements. Please note this is for enquiries only and does not constitute a firm booking. The Centre Manager and trustees reserve the right to refuse bookings at their discretion.