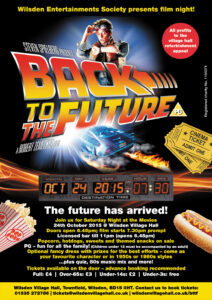 Date: Saturday 24th October 2015 (aka "the future"!)
Time: film starts at 7.30pm prompt (bar opens at 6.45pm)
Place: main hall, Wilsden Village Hall
Tickets: £4 standard, £3 over-65s, £2 under-14s. Under-3s are free and don't require a ticket. Available on the door but booking is advised – click to book now
Dress code: fancy dress optional. Prizes for the best efforts!
30 years ago, Marty McFly took a DeLorean trip into a future of hoverboards, flying cars and a worrying obsession with two-tone neon. That future was October 2015. What better way to celebrate than with a big-screen showing of the film that started it all back in good ol' 1985, complete with licensed bar, themed snacks, fancy dress competition and 80s music to finish off the night?
Reserve tickets for Saturday Cinema: Back to the Future online
Watch the trailer

Wilsden Entertainments Society presents the first of what we hope will become a regular series of Saturday Cinema nights at the village hall: Back to the Future! In this much-loved 80s classic, teen Marty McFly (Michael J. Fox) and his nutty inventor pal Doc Brown (Christopher Lloyd) time travel back to 1955 to help Marty's parents get together – before he disappears forever.
Join us on Saturday 24th October at 7.30pm for a fun social evening with family, friends and neighbours. We can't give you hoverboards or self-lacing Nikes, but we can give you a great movie night with a large 10ft screen, well-stocked bar, themed snacks and drinks, prizes for the best fancy dress, a quiz, and an 80s music mix to finish that'll blow your parachute pants off.
Come along and enjoy a delicious Doc Brownie or one of Einstein's Hot Dogs with a glass of Calvin Klein's Jivin' Wine, courtesy of our usherettes, in the comfortable ambient atmosphere of Wilsden Village Hall. If you like you can dress as your favourite character, or channel some 1985 or 1955 chic – prizes will be awarded for the best efforts!
All are welcome to this fun-for-all-the-family PG film, although children under 12 must be accompanied by an adult. Tickets cost £4 standard, £3 over-65s and £2 under-14s. Under-threes are free. All profits will got towards the 40 Candles Birthday Appeal, which aims to raise £20,000 to refurbish the village hall.

Reserve tickets online
We recommend reserving your tickets in advance for collection and payment on the door. This will guarantee your seat (max 80 available) and will be helpful to the organisers during planning. If for any reason you are unable to attend, please email us on tickets@wilsdenvillagehall.co.uk so we can free up your seat for someone else. Use the form below to reserve seats.
[vfb id=6]
About film nights at the village hall
Our questionnaire has shown that respondents would like to see a community cinema in the village. We hope this first event will lead to a regular social film night once a month at the hall, as well as special screenings catering for specific groups (for example, family-friendly and dementia-friendly screenings). We intend to show a wide range of films, from new releases to family favourites to popular classics, as well as running film seasons such as Best of British and Oscar Winners. Some of the films we are considering for future screenings are Avengers: Age of Ultron, Cinderella (live-action), Jurassic World, The Imitation Game, The Theory of Everything, It's A Wonderful Life, Star Wars, Minions and The Magnificent Seven. The community will have the chance to vote on the next screening from a shortlist.
If you would like to give us your views on the community cinema and the types of film you would like us to show, our online questionnaire is still open on our website here.