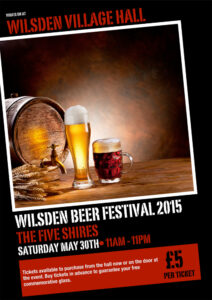 This year's Five Shires-themed Beer Festival will take place at the village hall on Saturday 30th May, 11am-11pm, with 20 beers from across Yorkshire, Lancashire, Lincolnshire, Derbyshire and Nottinghamshire battling it out to be crowned King of the Ales.
Entrance will be £5, which includes a half-pint of your choice and one of our much-coveted souvenir beer glasses (while stocks last!). To guarantee your glass, you can buy a ticket in advance from Julie in her office at the village hall – open Monday to Friday, 9am to 5pm.
In addition to the 20 beers, there will be a small selection of wines and ciders, plus soft drinks. Children are welcome to join their parents until 6pm.
There will be a cafe serving food all day, plus a hog roast from 2pm, and live music from the Beer House Boys from 7pm.
Please do come along – the beer festival is always a great day out, and every penny raised will go to the village hall, a registered charity, and help it keep serving the community many years into the future.
Like Wilsden Beer Festival on Facebook for beer announcements as they happen!