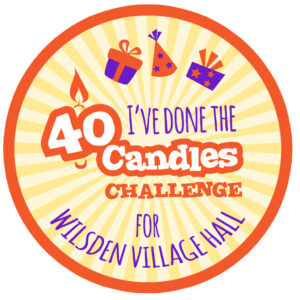 As part of our 40 Candles Birthday Appeal, we are asking villagers and hall user groups to consider running a fundraiser for us to help us get to our target of £20,000. This will be used to completely refurbish the hall, making it a brighter, pleasanter facility for the hundreds of Wilsdeners who use it every week.
As part of this, we've developed the 40 Candles Challenge. Although developed primarily with the uniformed groups who use the hall in mind – the Brownies, Guides, Beavers, Cubs and Scouts – the challenge is open to any of the hall's youth groups.
A free challenge pack can be downloaded from this page. This is packed with ideas and resources to help your group organise their own fundraiser. When they have completed the challenge, they will have earned a sew-on 40 Candles Challenge badge. These are available to order for £1 each.
Let's work together and build a better hall for everyone!