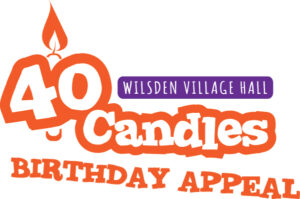 Support our appeal and help refurbish the hall!
On 6th July 2015 Wilsden Village Hall launched the 40 Candles Birthday Appeal in the run-up to turning Naughty Forty on 19th June next year. We want to raise £500 for every year of our life – a total of £20,000!
The money will be used to completely refurbish our hall, making it a better, brighter, pleasanter facility for all.
If you believe the hall is important to the village, please support our appeal. It is a brilliant venue at the heart of our community and we are lucky to have it. As a not-for-profit, self-funding charity, it relies on a combination of user fees and fundraising to cover its substantial costs.
The hall is held in trust for the people of Wilsden – it belongs to all of us and we all have a stake in its future. Together we can reach our target!
You will need Adobe Reader to view the downloads on this page.
Text

WVHC40 £5

to

70070

to donate £5 to the appeal
You can support the appeal in these ways:
Run a fundraiser for us
Could you, or a group you're involved with, organise a fundraiser on our behalf? We've created a fundraising pack to help, which you can download for free below. You could adapt these resources for your own group fundraisers too.
Download the 40 Candles Appeal fundraising pack
If you are a leader for a uniformed or youth group, we've produced something just for you, the 40 Candles Challenge. Members will organise their own fundraiser to earn a badge. Click here to find out more
Make a donation
You can make a personal donation to the hall's 40 Candles Appeal in the following ways:
By texting WVHC40 (all caps), followed by the amount you would like to donate (max £10), to 70070 (e.g. WVHC40 £10)
Online through MyDonate.
By bank transfer:

Account name: Wilsden Village Hall
Account number: 03124754
Sort code: 20-45-14
Reference: 40Candles

By cash or cheque (made payable to Wilsden Village Hall) – please post or give to Julie at the hall
An online donation facility will soon be available on this website.
Please add GiftAid to your donation if you are a UK taxpayer. This allows us to claim an additional 25% of your donation's value from the government – and it doesn't cost you a penny!
If you are donating by text message or online, you will be given the option to add GiftAid automatically. If you are donating by cash, cheque or bank transfer, please download and fill in the form below to add GiftAid to your donation. This can be returned to Julie at the hall, or posted to Donations, Wilsden Village Hall, Townfield, Wilsden, Bradford, West Yorkshire, BD15 0HT.
Come to our events
A new group, the Wilsden Entertainments Society, has been set up to organise events that will promote community spirit and raise funds for the hall. Keep an eye on our upcoming events page for announcements
How will the money be spent?
About half of the money it takes to run the hall each year comes from user fees: the other half has to come from elsewhere, including fundraising and grant funding. As the building ages, repair costs have increased, and in recent years grant funding has also become increasingly competitive. It's been some time since there has been money to spare for refurbishments. Consequently there are a number of areas in the building that need attention.
Our revamp plans include purchasing new tables and chairs, refurbishing the floors in the committee room and main hall, a new hob for the lower hall kitchen, a new roll shutter for the upper kitchen, a complete repaint of all the rooms and corridors, replacement of some of the equipment in the children's play area and urgent repair work.