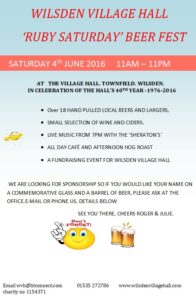 Date: 4th June 2016
Time: 11am to 11pm!
Place: Wilsden village hall
This year's beer fest is set to be a great event as this year we are also celebrating the 40th anniversary of the hall.
Featuring:
Over 18 hand-pulled local beers and lagers
A small selection of wines and ciders
Live music from 7pm with The Sheratons
An all day cafe and afternoon hog roast
This is a fundraising event for the village hall so please support it if you can.
We are looking for sponsorship, so if you'd like our name on a commemorative glass and a barrel of beer, please ask at the office. You can also email or phone using the details here