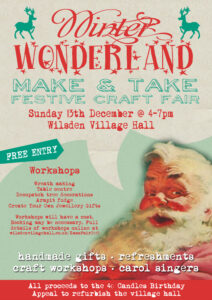 Join us for the Wilsden Village Hall festive "make and take" craft fair this December.
The village hall will be holding a Christmas craft fair on Sunday 13th December from 4pm. The theme of the event will be "make and take", with stallholders selling homemade items and craft kits, and a number of workshops for all ages available to try throughout the afternoon.
There will be a range of handmade items on sale from local groups, businesses and individuals, including toys, clothes, jewellery, paintings, calendars, table decorations, felted gifts, bunting, cushions, vintage goods, Christmas wreathes, novelty knits, dolls, brooches and more. The perfect place to pick up a unique Christmas gift you can't find in the shops!
Businesses taking part in the event include Golly Gosh Gifts, Roseland Creations, Anything Goes, Fairies Wardrobe and Bingley Manorlands Support Group.
We will also be running a number of workshops for both children and adults, perfect if you want to come along and learn a new skill! There will be a small charge for workshops to cover the cost of materials.
Baked refreshments will be provided by the ladies of Wilsden Women's Institute, with mulled wine and mince pies also available. The Advance Church singers will be singing carols for our guests.
Entry to this event is free and all profits go towards the village hall's 40 Candles Refurbishment Appeal, so please do come along and support us!
To enquire about having a stall, please contact Jean Radigan on jeannie08@btinternet.com
Workshops available
Wreath making
Cost £10. Make from scratch 45 min
Decorate pre made 15 min
Suitable age Teen to adult
Table centre
Cost £9. Time 30 min
Sundries/flowers supplied, bring along some winter foliage and sharp scissors.
Suitable Teens to adult.
Booking essential by 9/12/15 e-mail cwossick@btinternet.com or 07743 680580
Decopatch tree decoration
Cost £2.50. Drop in throughout the day
Suitable 5–Adult
Armpit fudge
Cost £1. Time 15 min
Suitable for children of any age
Create Your Own Jewellery Gifts
Time: drop-in between 4.30-6.00pm
Cost dependent on materials used